Storie
12:35, 22 ott 2020
Digital transformation, open innovation and post-pandemic rules: shaping the office of the future
In Turin, the pilot project of the partnership between Sella and studio CRA Carlo Ratti Associati to rethink environments and methods of interaction at work after the pandemic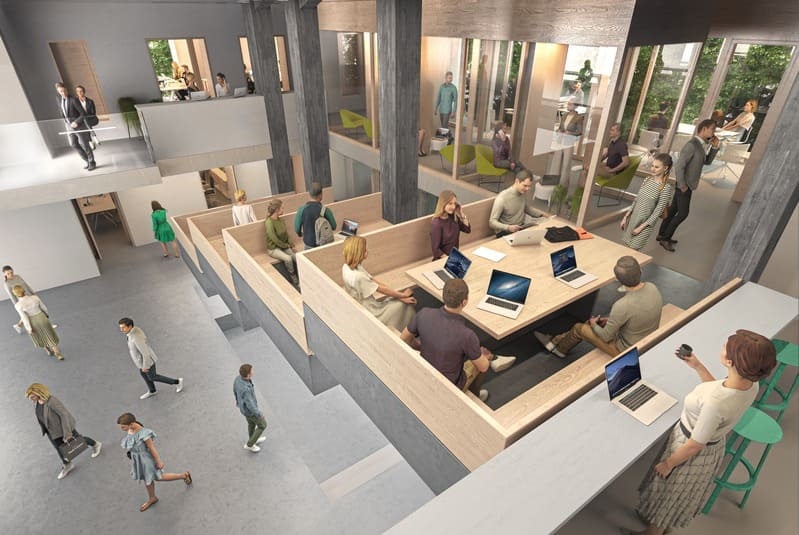 What is the role of the office in the post-pandemic future? Although a dose of remote work is desirable, physical offices will remain the beacon for innovation
Rethinking the workspaces and offices of the future by taking into account the ongoing digital disruption, open innovation and creation of environments resilient to the challenges of the COVID-19 post-pandemic: this is the purpose of the partnership between the Sella group and the architecture and design firm CRA ¿ Carlo Ratti Associati. Their pilot project will go live in Turin in the building recently purchased by the Sella group, to create a new hub of spaces dedicated to the banking and financial services, fintech and innovation, as core activities of the Group.

The partnership with the firm led by Carlo Ratti, Director of the Senseable City Lab at the Massachusetts Institute of Technology in Boston, strives to offer a new response to the changes in the working experience we underwent throughout the months of the COVID-19 health emergency. The smarter the work, the higher the need for suitable physical spaces, providing for the development of a new way of conceiving and experiencing the working activity, determined by new models of interaction between man, space and technology, to address the main concerns related to the pandemic disruption in the working environment. Although most companies will continue to foster remote work, human interactions within offices remain irreplaceable.
The Project
According to Carlo Ratti, the so-called "weak links" between acquaintances, (as opposed to "strong ties" with friends and family) can be established at the offices only which are, however, crucial in the development of new ideas and in strengthening the identity of a company. "Such relationships ¿ said the Architect and Engineer are at risk if we work alone since we tend to come into only remote contact with our usual colleagues. Through the Sella project, we strive to propose a resilient alternative design for the future of our offices, which must be safe and sociable".
An in-depth analysis of the innovative and design characteristics of this partnership can be found in the section dedicated to the Sella project on the CRA¿s website ¿ Carlo Ratti Associati. The project is set on the construction of workstations conceived on the "hot-desking" paradigm, where the same station can be used by several employees in a totally safe way involving a sanitization system, that is activated at every change. As a plus a new air circulation system will be tested entailing the use of smart windows to limit the circulation of microorganisms in the air while increasing energy efficiency.
The building complex, that will host the new pole was purchased by the Sella group in 2019. It is an area of 5,000 square meters in Corso Galileo Ferraris 32 in Turin, home of Juventus F.C. from 2002 to 2018. The area will host spaces dedicated to innovation and fintech services that are core to the Group's activity. The new premises of Turin are joining those of Palazzo Bricherasio, where Banca Patrimoni Sella & C. is based.