Stories ENG
16:31, 18 Apr 2023
Sella India, the best working environment always comes from listening to people
Today our Made in Sella moves to India to tell the challenge of colleagues in rethinking work after the pandemic emergency. Twenty-six years have passed since the birth of this hi-tech hub, now part of Centrico, which supports the technological activities of Sella. People and their involvement are the basis of success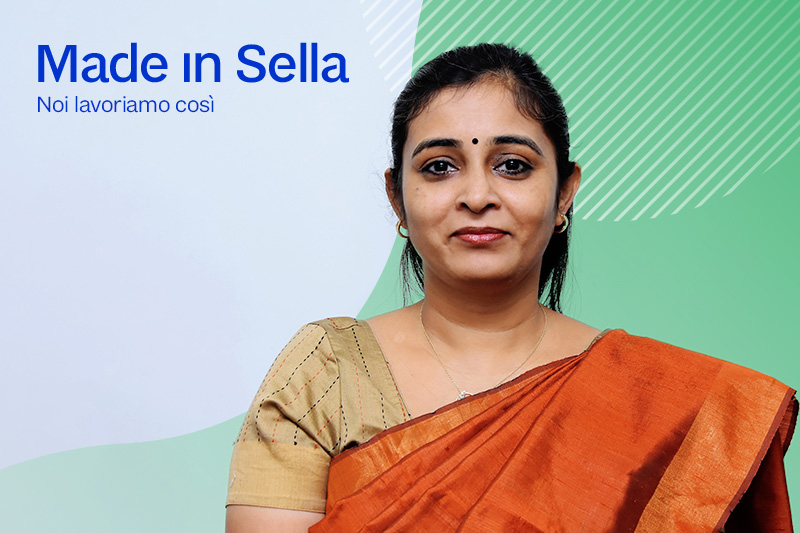 On 17th October 1996, the Sella group's journey in India began. In these 26 years, Sella India Software Services Private Ltd, which is part of Centrico, the information technology company of our Group, has grown and strengthened, becoming a tangible point of reference for the technological evolution of our business. Credits for this growth go first and foremost to our Indian colleagues: a team exceeding at present 300 people, which has contributed to Sella's most technologically advanced projects, from setting up H2O, the technological infrastructure that has transformed our core banking, to developing the most innovative projects of Axerve, Hype and Fabrick.

At the outbreak of the COVID pandemic, Sella Synergy India cared about supporting its colleagues in the most acute phase of the emergency, helping them with their personal and medical emergencies and, concurrently, quickly re-organising itself to ensure the continuation of ongoing projects. The introduction of remote working and the looming of the new hybrid work model made HR face-up to the requirement of re-shaping work dynamics, meeting emerging needs and seizing new opportunities. We spoke about this transformation with Anamika Sinha, Head of Human Resources at Sella India.

Anamika, how has the work organisation in Sella India changed since the end of the emergency phase?
Although project development and delivery activities went in business-as-usual mode, during COVID, we had to rethink our people strategy and bring in continuity to the remaining priorities in the new hybrid context. Specifically, we had to reimagine ways to foster interactions, cross team collaborations and strengthen bonds among people meanwhile enhancing the sense of belonging to the Group. All these activities proved even more challenging in the face of the 'Great Resignation' phenomenon, which also affected India and our organisation. It became important for us to think of ways to enable the new Sella employees experience, understand and imbibe the Sella culture and values.

.
We had to rethink our people strategy and bring in continuity to the remaining priorities in the new hybrid context
Which was the basis for this reorganisation?
All the initiatives to build the so-called 'new normal' after COVID pillared on four macro-objectives: connectivity, training, personal growth, health and well-being. We undertook several ventures to maintain an open dialogue at all levels and structured workflows to optimise both the benefits of remote working and office work. For example, on a monthly basis, all colleagues spend a week working face to face with their team, while new hires work together on site for at least during their first month. We customised training plans based on role-based competency gap analysis, coupled with employee¿s aspirations and organisation¿s future priorities. Our mentorship program was a success with 15% of our employees opting for it and they utilised it for both professional and personal growth. Finally, we created a series of socialisation and celebration events. Our just in time ¿on spot awards¿ are also highly appreciated by the employees.
How did you steer in organising these activities?
The basis of all Covid support effort was an innate spirit of service and the empathy across the organisation and more specifically the people functions, and team leaders had a larger role to play. The supportive eco system built an environment of trust and cooperation, on the base of which we built socialisation, mentorship and training initiatives as a natural consequence of listening to our colleagues. We worked on the feedback received through either structured surveys such as the Great Place to Work, internal Employee Satisfaction survey or inputs that we received through employee connects. We also sought views of co-workers who resigned in recent years.
What measures applied to protect people's health?
Ensuring people's well-being has always been one of our main goals. In the post-COVID period, we adopted an app called 'Cultfit' to guide all colleagues in taking care of their physical fitness and mental health. We hosted experts to discuss various related topics. There is free psychological counselling service available to all colleagues who need it. Concurrently, we organised indoor and outdoor sports events and sponsored our colleagues who participated in city marathons. We have a group of colleagues who are passionate marathoners.
And to foster diversity and inclusion within the company?
At Sella India, we have always upheld the philosophy of equality and fairness. On these principles, we want to build a culture strongly characterised by diversity and inclusion. We recruited women who had career breaks of more than two years and invested in their professional growth. We have launched a series of programmes for our female colleagues aimed at 'unlocking their potential'. These training activities focus on building leadership skills, starting with understanding prejudices, and learning how to overcome them and training them on key behavioural skills like negotiation, branding, looking at bigger picture and networking. We also kept our return-to-work policy flexible for female colleagues who are mothers of new-borns and young children.
How do you plan to continue this strategy in the future?
We are facing a period of deep technological evolution thanks to the advent of artificial intelligence. We want to be the pioneers of change. To succeed we will need mastery but also a close-knit and motivated team. For this reason, we will continue to set our strategy on the principles that have always characterised our Group, such as open culture, cooperation and learning to keep up with the technological revolutions ahead, that we will face, as always, all together.