Metaverse 4 Finance Accelerator. The launch event video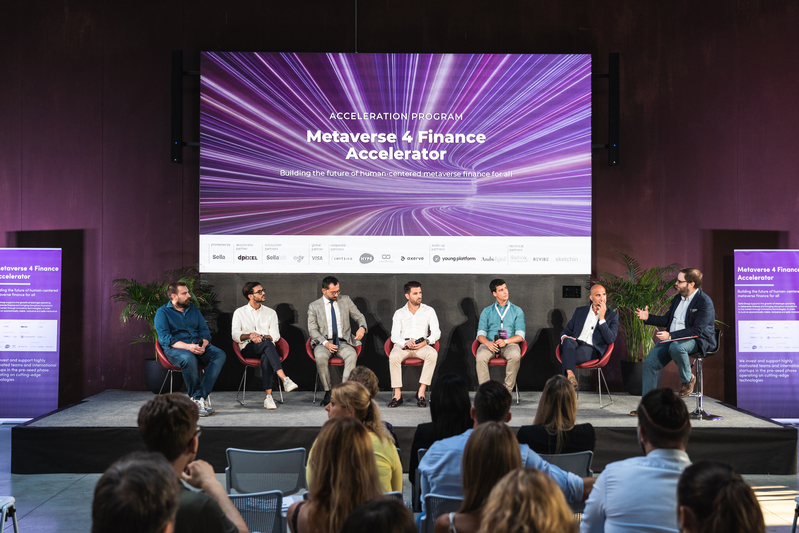 Explaining the opportunities offered by the new metaverse world through the testimonials of experts in the field and introducing "Metaverse 4 Finance Accelerator". Officine Grandi Riparazioni hosted on July 6th in Turin, the launch event of the first Italian acceleration programme, fostered by the Sella group, aiming at identifying and supporting the growth of national and international startups for the development of innovative, economically sustainable, inclusive and safe solutions and technologies, within the metaverse for finance environment.
The metaverse is also "emotion" as it tells us about something that will strongly impact the lives of each of us. And the only way to face this new world is to "explore it, test it, find ideas to develop, making mistakes and learning from them". These were the introductory words of Pietro Sella, CEO of the Sella group, on the subject of the metaverse, specifying that there are five extents behind web3: governance, trust, inclusiveness, digital assets (the primary and disruptive change), and incentive schemes. Extents that, in many cases, can solve real problems better than traditional solutions.
Following were the visionary speeches of Eva Ruiz, Southern Europe Head of Fintech at Visa, Ioana Surpateanu, investor and entrepreneur within the Web3 and DeFi, and Anjali Bastianpillai, Thematic Equities Senior Product Specialist at Pictet Asset Management.
In particular, Ioana Surpateanu focused on the many technical specifications governing the metaverse and on the characteristics of the so-called decentralized finance. Anjali Bastianpillai explained the business and investment opportunities in the "new world", underlining how the most exciting developments concern the sectors of e-commerce, gaming, entertainment, remote working, social media, training, eHealth, and fitness. The Metaverse will bring more digital and less physical goods, lower excessive consumption, additional dematerialisation, and a new economy characterised by a greater redistribution of wealth.
In closing the event, Stefano Azzalin, CEO of dpixel, introduced the entire acceleration program, its recipients, the different phases, and the awards for the winning solutions. He also talked with the technical partners, supporting the startups taking part in the Metaverse 4 Finance Accelerator program, specifically on the legal, design and project aspects.